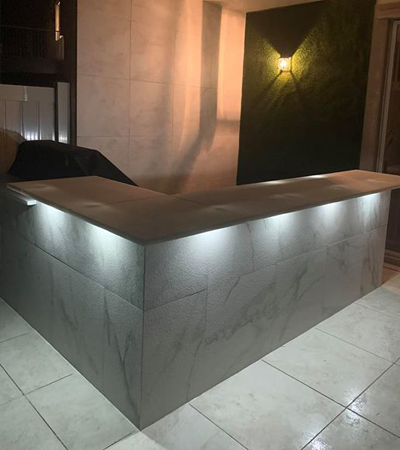 HOW TO CHOOSE PAVER COLORS
1. Do your research.
Cut pictures from interior design magazines or search the internet for matching color palettes and designs that you love.
2. Choosing a color palette for your design will be the key to keeping your design cohesive.
Choose one main color and up to 2 accent colors for your design. The main color should be a neutral color like beige, white, silver, black, or grey. Great and timeless accent colors are gold, turquoise, red, blue, or oranges. Keep in mind your pool tile should be a complimenting color to your porcelain paver color.
3. Matching your porcelain paver to the main color palette will make your design pop.
If you are going with beige as your main color, take a look at our 2cm Shellstone or 2cm Sandstone. For grey tones check our Quartz Griss, Sandstone Grey, or Silver Travertine. If you want your paver design to pop, try the DaVinci design in 2cm or 3cm.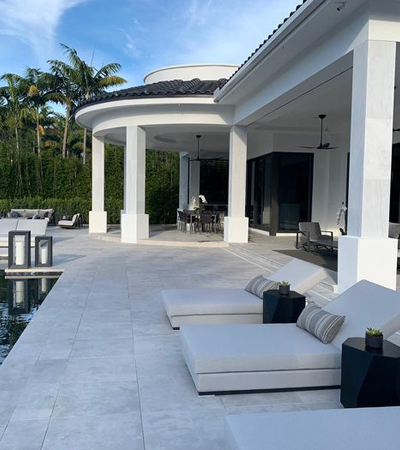 HOW TO CHOOSE SHAPES AND PATTERNS
1. There are many patterns to choose when laying porcelain pavers.
The most common is the straight lay pattern, which will create an overall grid pattern. The running brick pattern is a pattern consistently used on walkways that creates an offset design for each row. The herringbone pattern is booming back into popularity and mostly seen on home design shows. This beautiful design features 45-degree angles with a "v" shape.
2. Make a unique design.
Some of our porcelain pavers come in multiple sizes allowing for unique design opportunities. With some Porcelain Pavers available in both 24"x24" and 16"x32", If you have a talented install team, you may be able to create a unique look.
3. Plank vs. Square Porcelain Pavers.
We offer plank porcelain pavers that are a favorite among commercial contractors and builders. Our Cadore Rovere and Cadore Frassino plank porcelain pavers come in 8"x32" size, resembling wood planks. These are great for a rustic or Italian villa design. Square porcelain pavers are more traditional and transcend time in 24"x24" and 12"x12" sizes.
4. Think about your outdoor space.
When choosing a shape and pattern, think about the space you are designing. If you need to elongate your surface area it could be good to go with a longer rectangle or plank shaped porcelain paver then a traditional square shape.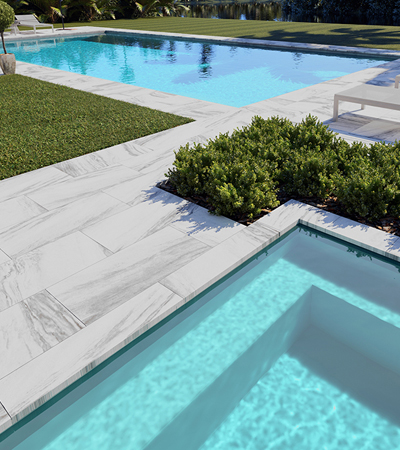 CONSIDER A PROJECT WITH US
1. Quality craftsmanship is what we do at Hardscape.com.
With over 25 years of hardscape experience, we offer the best design and manufacturing process for our customers.
2. Expert quality control.
Our designs and durability are what our customers count on. That's why we have expert quality control with over 25 years' experience in the outdoor hardscapes.
3. We specialize in outdoor hardscaping.
We don't just sell porcelain pavers, we manufacturer them. Unlike our competitors, we do not just distribute another manufacturer's product or order from distributors. Our product is in stock and ready to ship from one of our many warehouses, dealers or distributors.